History and Geography
Delhi finds prominent reference right from the times of the epic Mahabharata. Its control passed from one ruler/dynasty to another, beginning with the Mauryas, Pallavas, Guptas of Central India, and then to the Turks and Afghan during the 13th to 15th centuries, and finally to the Mughals in the 16th century. In the latter half of the 18th century and early 19th century, the British rule was established in Delhi. In 1911, Delhi became the centre of all activities after the capital was shifted from Kolkata. It was made a Union Territory in 1956. Lying in the northern part of the country, Delhi is surrounded by Haryana on all sides except the east, where it borders with Uttar Pradesh. The 69th Constitutional amendment is a milestone in Delhi's history, as it got a Legislative Assembly with the enactment of the National Capital Territory Act, 1991.
Agriculture
The principal food crops are wheat, bajra, jowar, gram and maize. However, emphasis has now shifted from food crops to vegetables and fruit crops, dairy, poultry-farming, floriculture, etc., as these are more remunerative than food crops in the territory.
Industry
Delhi is not only the largest commercial centre in northern India, but also the largest centre of small industries. These are manufacturing a wide variety of items like television, tape recorders, light engineering machines and automobile parts, sports goods, bicycles and PVC goods including footwear textiles, fertilizers, medicines, hosiery, leather goods, software, etc.
Delhi's new millennium industrial policy, emphasizes setting up of high-tech and sophisticated industries in electronics, telecommunications, software industries, IT enabling services, etc. The industries, which are non-polluting and encourage high value addition and depend largely on skilled manpower, are being promoted. DSIDC is setting up Training Institute for Gems and Jewellery and Assaying and Hallmarking Centre at Okhla in the building of Hitech Vocational Centre.
For the purpose of relocating industrial units functioning in residential nonconforming areas, the Government of NCT of Delhi took possession of 1900 acres of land at village Bawana, Holambi Kalan and Holambi Khurd for developing new industrial estates. Bawana Industrial area developed by DSIDC is the largest in Asia and is spread over 1900 acres of land. At Narela 900 plots have been developed and allotted and another 600 plots are being developed. Work of construction of 378 flatted factories at Jhilmil Industrial Area for relocation of smaller units has been completed. 450 acres of land have been taken for development at the Bhorgaarh industrial estates. In addition to the above, 652 hectares of land is being acquired for development into a huge industrial area in Kanjhawala/Kerala.
Irrigation and Power
Due to fast urbanisation of the rural areas of Delhi, cultivable command area under irrigation is getting reduced day by day. Two schemes, namely, "Keshopur Effluent Irrigation Scheme Phase-III" and "Improvement and Extension of Effluent Irrigation System from Coronation Treatment Plant" are under execution. Irrigation of about 350 hectares with state tube-wells and 1,376 hectares from effluent water is being provided in the rural area of NCT of Delhi. In addition about 4,900 hectares of land is being irrigated from western Yamuna Canal network.
The firm availability of power for Delhi from its own generating units at Rajghat Power Houses, IP Station and Gas Turbines including Badarpur Thermal Station is of the order of 850-900 MW. The remaining power is drawn from Northern Regional Grid. Delhi has also envisaged a number of generating projects to be taken up. Pragati Combined Cycle Power Project has been established at Indraprastha Estate. A 330 MW Pragati Power Project under construction is scheduled to be commissioned soon. The test run for its first phase of 100 MW has already started. The work of newly planned 330 MW gas based power plant under Pragati-II and 1000 MW power plant planned at Bawana is going on. Existing coal-based Indraprastha plant is being replaced by 1000 MW gas based plant.
To streamline the distribution of power, DVB has been privatised and Delhi is now served by the two of the best electric utilities in India, BSES and Tata Power (NDPL).
Transport
Delhi is well connected by roads, rail and air with all parts of India. It has three airports-Indira Gandhi International Airport for the international flights, Palam Airport for domestic air services and Safdarjung Airport for training purposes. It has three important railway stations - Delhi Junction, New Delhi Railway Station and Nizamuddin Railway Station. Delhi has three inter-state bus terminals at Kashmeri Gate, Sarai Kale Khan and Anand Vihar.
Keeping in view the rising vehicular pollution and chaotic traffic condition in the city of Delhi, it has been decided to start Mass Rapid Transit System (MRTS) in Delhi. The Project is under implementation and is uses the state-of-the-art modern technology. The metro rail project runs in Delhi. Now Delhi Metro comprises six lines with a total length of around 190km.
Festivals
Being a cosmopolitan city, all major festivals of India are celebrated here. Moreover, some tourism festivals have become regular annual events of Delhi. Delhi Tourism and Transportation Development Corporation organises Roshnara Festival, Shalimar Festival, Qutab Festival, Winter Carnival, Garden Tourism Festival, Jahane-Khusrao Festival and Mango Festival every year.
Tourist Places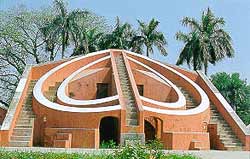 Jantar Mantar, New Delhi
Important tourist places are Lal Quila (Red Fort), Jama Masjid, Qutab Minar, India Gate, Laxmi Narian Mandir (Birla Mandir), Humayun's tomb, Lotus Temple, etc. Delhi Tourism and Transportation Development Corporation Limited conducts city sight-seeing and excursion tours. The Corporation has also introduced adventure tourism activities such as para-sailing, rock-climbing and boating in Delhi. The Corporation has also developed DELHI HAAT, where beverages and food items of different states are available at one place. More such HAATs are planned in different parts of Delhi. The Corporation is also running Coffee Homes in different parts of Delhi. The "Garden of five Senses" has also been opened in the South District of Delhi, which attracts a lot of tourists visiting Delhi.
---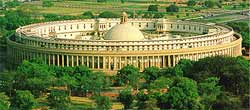 Parliament of India, New Delhi
The Parliament of India is the supreme legislative body of the Republic of India. The Parliament is composed of the President of India and the houses. It is bicameral with two houses: Rajya Sabha (Council of States) and the Lok Sabha (House of the People). The President in his role as head of legislature has full powers to summon and prorogue either house of Parliament or to dissolve Lok Sabha. The president can exercise these powers only upon the advice of the Prime Minister and his Council of Ministers.
* As per 2011 Census (Provisional Data)