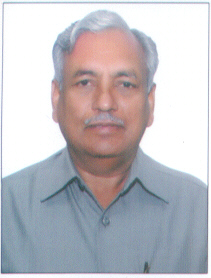 Shri Ram Niwas Goel
Hon'ble Speaker, Delhi Vidhan Sabha
---
Present Address
Office : Room No. 59, Vidhan Sabha, Old Secretariat, Delhi-110054.
Residence : 9, Sham Nath Marg, Delhi - 110054.
Camp Office : B-120, Vivek Vihar, Delhi-110095
---
Official Details
+91-11-23890140
+91-11-23890150
+91-9311058007
+91-11-42424828
+91-11-23890375
rajendrapal.gautam@gov.in
---
| | |
| --- | --- |
| Educational Qualifications | B.A. from Hans Raj College of Delhi University. |
Bio
Born on 5th January 1948, at Safidon Mandi, Haryana. Shri. Ram Niwas Goel has been actively involved in social work especially in the field of Education & Health for the weaker sections. He has been associated with numerous social organizations active in providing medical services, health services, promotion of religious harmony and servicing kanwad yaatris. Some of prominent positions held by him from time to time are:
Founder Member, Maharaja Agrasen Sewa Sansthan, Pathalogical Lab, X-Ray, Ultra Sound, E.C.G. etc. on not-for-profit basis.
Chief Organiser, Delhi-UP Border Shiv Kanwad Samiti which is the most popular camp for Kanwad Yatris in Delhi.
Chief Advisor of Maharaja Agrasen Sewa Sangh which provides ambulance service and hearse service to general public on not-for-profit basis.
Political Career :
Shri Ram Niwas Goel was elected as MLA in the First Legislative Assembly of National Capital Territory of Delhi (1993-98). Thereafter he has been elected as Member of Sixth & Seventh Legislative Assembly from Shahdara Assembly Constituency. He was second time elected as Speaker Delhi Legislative Assembly on 24-02-2020.
Personal Information:
Name : Shri. Ram Niwas Goel
Father's Name : Late Shri. C. B. Goel
Date of Birth : 5th January, 1948
Place of Birth : Safidon Mandi, Haryana
Spouse Name : Smt. Mithlesh Goel
Children : Two Sons and One Daughter
Filter
Hon'ble Speaker Office
Sr.No
Name
Designation
Email
Office
Residential
Residential Address
1
Shri Ram Niwas Goel
Hon'ble Speaker, Delhi Vidhan Sabha
+91-11-23890140
+91-11-23890150
Fax: +91-11-23890375
+91-9311058007
+91-9654358007
+91-11-42424828

9, Shamnath Marg, Delhi-110054

2
Shri Ajay Rawal
Secretary to Hon'ble Speaker
+91-11-23890140
+91-11-23890150
Fax: +91-11-23890375
+91-9891456002

169, Ambika Vihar, Pashchim Vihar, New Delhi-110087

3
Shri Chater Sen
P. S. to Hon'ble Speaker
+91-11-23890140
+91-11-23890150
Fax: +91-11-23890375
+91-9868479499

I-56, Lal Kuan, Badarpur, New Delhi-110044
Hon'ble Deputy Speaker Office
Sr.No
Name
Designation
Email
Office
Residential
Residential Address
4
Ms. Rakhi Birla
Hon'ble Dy. Speaker
+91-11-23890167
Fax: +91-11-23890016
+91-9650907995
+91-9136222022

112, T-Block, Mangol Puri, Delhi-110083
+91-9650907995
+91-9136222022

5
Smt. Bimla
PPS to HDS
+91-11-23890167

+91-9013233978

B-206, F-2 Shalimar Garden (Main) Sahibabad, Gaziabad, U.P.

6
Shri V. K. Sharma
P. S. to Hon'ble Deputy Speaker
+91-11-23890167
Fax: +91-11-23890016
+91-11-23814986

760, Delhi Administration Flats,Timarpur, Delhi-110054
Assembly Secretariat
Sr.No
Name
Designation
Email
Office
Residential
Residential Address
7
Shri C. Velmurugan
Secretary

sla.delhi@gov.in

+91-11-23890007
+91-11-23890109
+91-11-23890468
Fax: +91-11-23890128
+91-9350552412

A-3/9, Sector-18, Rohini, Delhi-110089

8
Smt. Elkesh Maggoo
P. S. (Personal Br. of Secretary L. A.)
+91-11-23890007
+91-11-23890109
Fax: +91-11-23890128
+91-9999598154

Flat No.-71, Pkt. C-8, Sector-8, Rohini, Delhi-110085

9
Shri Mukesh C. Sharma
Dy. Secretary (H.O.O./Admn./PIO/Security/Caretaking)


dysecyadmn.dvs-dl@gov.in

+91-11-23890060

+91-9582808611

C-5/41, Yamuna Vihar, Delhi-110053

10
Shri Sunil Dutt Sharma
Dy. Secretary (Legislation)
+91-11-23890468

+91-9717566688

H. No. 320/3, Village Masjid Moth, NDSE-II, New Delhi-110049

11
Shri Sadanand Sah
Dy. Secretary (D.A.R.C.)
+91-11-23890060

+91-9818007183

AG-1/191-B, Vikaspuri New Delhi-110018

12
Shri Manjeet Singh
Dy. Secretary (Committees)
+91-11-23890369

+91-9871245246,
+91-11-27732347

Village & P.O.- Nangli Poona, Delhi-110036

13
Shri M. S. Rawat
Dy. Secretary (Reporters Branch)


dysecyrepo1.dvs-dl@gov.in

+91-11-23890398

+91-9899056311

F-163 E/F-2, Dilshad Colony, Delhi-110095

14
Shri Mahendra Gupta
Dy. Secretary (Questions)

mahendraguptasahaji@yahoo.co.in

+91-11-23890398

+91-9968310540

713/10, IIIrd Floor, Mukim Pura, Gali Mandir Wali, Old Subzi Mandi, Delhi-110007

15
Shri Gurinder Singh
Dy. Controller of Accounts

srao.dvs-dl@gov.in

+91-11-23890106
+91-11-23890083

+91-9810378184

B-15, IIIrd Flr. Gujranwala Town, Part-I, Delhi-110009

16
Shri Francis K.A.
Sr. Accounts Officer

aao.dvs-dl@gov.in

+91-11-23890106

+91-11-26190494

324, Sector-12, R.K. Puram, New Delhi-110022

17
Shri Ravikant D. Satdeve
Sr. System Analyst (I.T.)

sa.dvs-dl@gov.in

+91-11-23890163

+91-9717452527

B-6/22; Shiva Appartments, Sector-4, Rohini, Delhi-85

18
Shri Subhash Ranjan
Section Officer (Committee)
+91-11-23890369

+91-9968094894

B-5, Transit Hostel,Battery Lane Rajpur Road, Delhi - 110054

19
Dr. Kamlesh Upadhyay
Section Officer (Caretaking / Security)
+91-11-23890084

+91-7982175819

D-368, Street No. 8,Bhajanpura, Delhi-53

20
Smt. Manjul Raizada
Section Officer (Admin. / APIO)
+91-11-23890210
+91-11-23890107


58 Pragatisheel Apartment, Sector-11, Rohini, Delhi-85

21
Shri Ranjit Singh Bisht
Section Officer (Litigation)
+91-11-23890107

+91-9968040992

Flat No. 886, Type-III, Gulabi Bagh, Delhi-110007

22
Smt. Sarita Misra
Section Officer (Legislation)
+91-11-23890371

+91-9891778874

B-1/B-34, Janak Puri, New Delhi
Party Office
Sr.No
Name
Designation
Email
Office
Residential
Residential Address
23
Shri Pawan Kumar Sharma
P. S.
Aam Aadmi Party Office
Room No. 34 & 35
+91-11-23890141

24
BJP Party Office
+91-11-23890250
+91-11-23890059
+91-11-23890124

25
Chairman - PAC
+91-11-23890223

26
Chairman - COGU
+91-11-23890129

27
Chairman - Estimate
+91-11-23890061